Popeye's Supplements Canada - Popeye's Bucks
Popeye's Supplements Canada Popeye's Bucks is our customer reward program that allows the consumer to earn Popeye's Bucks to use towards future purchases.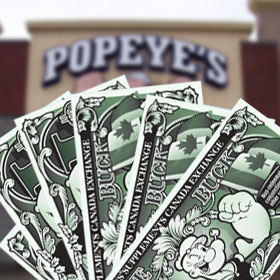 Frequently Asked Questions:
Q: Is there a membership fee associated with Popeye's Bucks?
A: No there is no membership fee for any reward programs at Popeye's Supplements Canada locations.
Q: How do I earn Popeye's Bucks?
A: You will earn 1 Popeye Dollar for every $25 that you spend in our stores.
Q: Do Popeye's Bucks ever expire?
A: No, your Popeye's Bucks will never expire allowing you the flexibility to use them on your next purchase or save them up and redeem as many as you want to pay for an entire purchase.
Q: Is there a limit to how many Popeye's Bucks can be redeemed per purchase?
A: How many Popeye's Bucks can be redeemed at any purchase varies from location to location. Contact your local store for details.
Q: Can I use Popeye's Bucks at any Popeye's Supplements Canada location?
A: Yes, they can be redeemed at any participating Popeye's Supplements Canada location.
Q: Can I return my Popeye's Bucks?
A: No, Popeye's Bucks have no cash value and can only be redeemed on purchases made at the time they are presented by the consumer.


™ & © 2018 King Features Syndicate, Inc. © 2018 Popeye's® Supplements Canada All Rights Reserved.
**The products and the claims made about specific products on or through this site have not been evaluated by Popeye's® Supplements Canada Corporation or Health Canada and are not approved to diagnose, treat, cure or prevent disease. The information provided on this site is for informational purposes only and is not intended as a substitute for advice from your physician or other health care professional or any information contained on or in any product label or packaging. You should consult with a healthcare professional before starting any diet, exercise or supplementation program, before taking any medication, or if you have or suspect you might have a health problem. Information about each product is taken from the labels of the products or from the manufacturer's advertising material. Popeye's® Supplements Canada is not responsible for any statements or claims that various manufacturers make about their products. We cannot be held responsible for typographical errors or product formulation changes Sport supplementation should be used by persons 18 years and older.