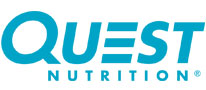 Quest Nutrition MCT Oil Powder, 454 Grams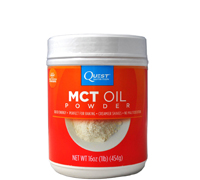 Quest Nutrition MCT Oil Powder
Quick Energy, Perfect For Baking, Creamier Shakes, No Maltodextrin

Clean Eating, Customized!
Eating towawrds your goals shouldn't force you into one "ideal" macronutrient ratio.
That's why we've created an entire line of baking accessories. Finally, you can customize your shake or #CheatClean recipe to take control of your nutrition without compromising on taste. Add in fat and carb sources the way you want, when you want!
Energy, Not Indigestion!
Quest Medium Chain Triglycerides (MCT) powder was created to provide all the benefit of MCTs - a fat source providing you more energy that isn't metabolized the same way as most fats - minus the GI upset that liquid MCTs cause. Most people who can't tolerate liquid MCTs have no digestive distress with our powdered version.
Rich, Creamy Shakes, Easy To Bake!
It's not just about the nutritional benefits. Eating should be fun. Quest MCT powder blends perfectly into your shake to add a rich, creamy texture and mixes easily into baked treat mixes for more #CheatClean decadence
No Soy, No Added Sugar, Gluten Free.

™ & © 2018 King Features Syndicate, Inc. © 2018 Popeye's® Supplements Canada All Rights Reserved.
**The products and the claims made about specific products on or through this site have not been evaluated by Popeye's® Supplements Canada Corporation or Health Canada and are not approved to diagnose, treat, cure or prevent disease. The information provided on this site is for informational purposes only and is not intended as a substitute for advice from your physician or other health care professional or any information contained on or in any product label or packaging. You should consult with a healthcare professional before starting any diet, exercise or supplementation program, before taking any medication, or if you have or suspect you might have a health problem. Information about each product is taken from the labels of the products or from the manufacturer's advertising material. Popeye's® Supplements Canada is not responsible for any statements or claims that various manufacturers make about their products. We cannot be held responsible for typographical errors or product formulation changes Sport supplementation should be used by persons 18 years and older.