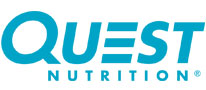 Quest Nutrition Protein Powder, 2 lb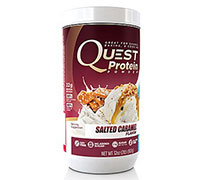 Quest Nutrition Quest Protein Powder
Great for Shakes, Baking, and Cooking
22g Protein Per Scoop
50% Whey Isolate
40% Micellar Casein
10% Milk Protein Isolate
No Soy
No Added Sugar
Less Than 1g Sugar Per Serving
Gluten Free
Bakes Well
TASTE REIMAGINED. Quest flavored Protein Powder is a tasty, decadent blend. Even when it's simply mixed with water. We've transformed high quality protein into impossibly delicious flavors that are distinctly Quest. But we didn't stop there.
CHEAT DAY, EVERYDAY. Quest Protein Powder is a groundbreaking cooking companion for our favorite #CheatClean recipes. Ditch the junk for this perfect ingredient swap into a protein-rich treat.
PROTEIN PER CALORIE. We believe the greatest measure of a protein powder is its protein-to-calories percentage. The higher, the better. Quest Protein Powder has one of the highest percentages of any protein because we don't add any junk. It's just amazing taste and excellent nutrition.
Available in 6 Great Tasting Flavours!
| | |
| --- | --- |
| | Peel open perfection! Get your protein by blending up the delicious, creamy flavor of real bananas! With 84% P-Cal, this banana bonanza is a protein powerhouse. |
| | |
| --- | --- |
| | The only rich, chocolatey milkshake that turns a post-workout ritual into frosty, made-to-order diner decadence. Calories: 110 | Protein: 22g | Net Carbs: 3g |
| | |
| --- | --- |
| | Creamy, peanut-butter richness as mind-bogglingly fun to eat as the inside out of a peanut butter cup. Calories: 110 | Protein: 23g | Net Carbs: 1g |
| | |
| --- | --- |
| | A taste too good to remain candy, the salty sweet flavor of caramel has never been better than when supercharged with Quest protein! And 88% P-Cal! protein makes this one of the most potent powders on the market! |
| | |
| --- | --- |
| | Sweet, juicy strawberries and cool cream slam together in a tasty dessert combo your tastebuds and muscles can appreciate. Calories: 100 | Protein: 21g | Net Carbs: 3g |
| | |
| --- | --- |
| | Cool & creamy, classic vanilla shake flavor. Calories: 100 | Protein: 22g | Fat: 0g | Fiber: Under 1g | Net Carbs: 3g |
*NOTE: Nutritional information and ingredients may vary from flavour to flavour.
No Soy, No Added Sugar, Gluten Free.
Suggested Use: Use 8 ounces of cold water or other chosen liquid per full scoop of Quest Protein. Whip in a blender if possible for best texture. When adding fruit or other ingredients, more water may be needed to achieve desired consistency.
™ & © 2018 King Features Syndicate, Inc. © 2018 Popeye's® Supplements Canada All Rights Reserved.
**The products and the claims made about specific products on or through this site have not been evaluated by Popeye's® Supplements Canada Corporation or Health Canada and are not approved to diagnose, treat, cure or prevent disease. The information provided on this site is for informational purposes only and is not intended as a substitute for advice from your physician or other health care professional or any information contained on or in any product label or packaging. You should consult with a healthcare professional before starting any diet, exercise or supplementation program, before taking any medication, or if you have or suspect you might have a health problem. Information about each product is taken from the labels of the products or from the manufacturer's advertising material. Popeye's® Supplements Canada is not responsible for any statements or claims that various manufacturers make about their products. We cannot be held responsible for typographical errors or product formulation changes Sport supplementation should be used by persons 18 years and older.