Lean Mass Plan

What to Eat to Gain Lean, Hard Muscle Mass!
Supplements to Cover
Tips & Information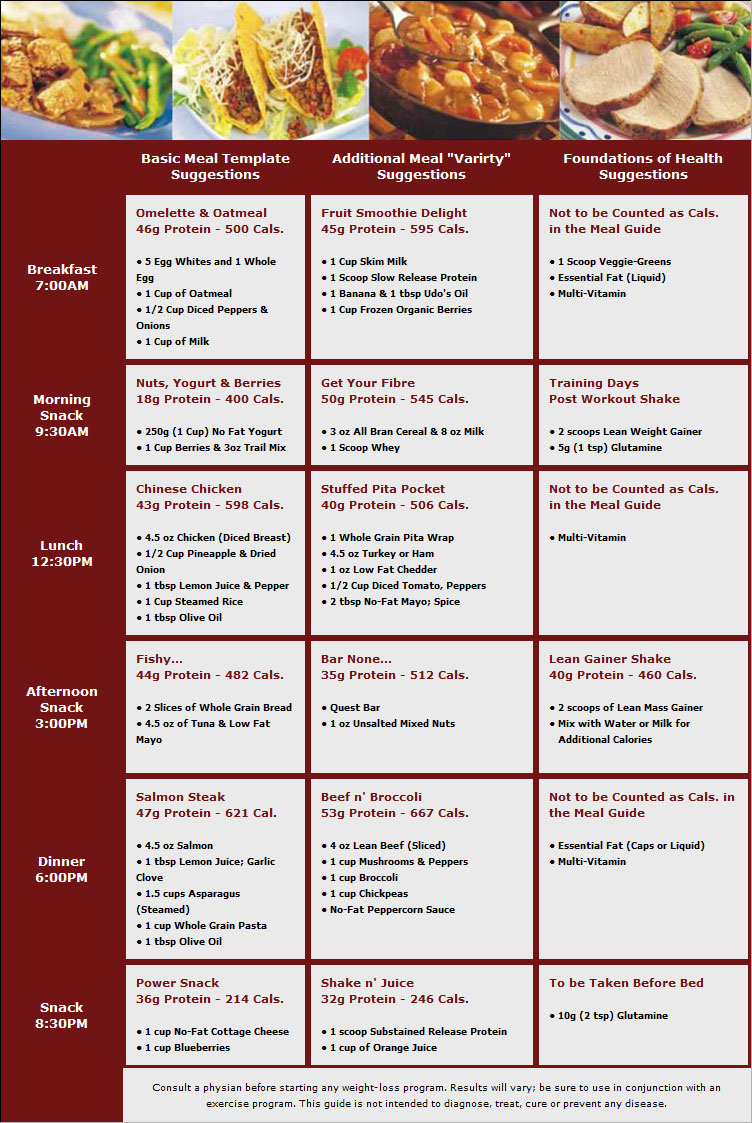 Printer Friendly Version:

English
Getting there a little bit faster ... The performance edge!

Gaining lean muscle mass takes time, effort and dedication to some basic principles — eating, sleeping and training. Simply put, if you are failing in one of those three basics you are not maximizing your results, and even worse can be sabotaging potential gains! People often err with respect to eating the appropriate caloric level; comments such as "I eat all the time" are common with hard gainers. To put on size is technically simple — you must ingest more calories than you burn!

How do performance supplements help? Basically they address "holes'' in nutrition, vastly improve recovery (muscle repair) and maximize the release of natural hormones through more restful sleep. Others magnify gym efforts by focusing overall intensity and stamina or reduce muscle wasting by preserving an anabolic state in the body at all times. Clearly, performance supplements lend a very direct and potent hand to your fitness goals!

Muscle Growth - Supplements Proven to Work:

Creatine

Improves user strength between 5-15%
Boosts strength gains by recycling spent ATP for re-use

Branch Chain Amino Acids (BCAA)

Leucine, Isoleucine and Valine
Three most critical parts of protein jointly protect against muscle breakdown
Promotes an anabolic environment for maximizing muscle growth

Vasodilators

"Fun" factor boosting blood flow into muscle tissue for huge "pumps"
Improves nutrient flow & recovery

ZMA & Tribulus

Improves overall both stamina and energy levels by increasing LH
Boosting testosterone levels Increases recovery, strength and sexual vigour

Tips & Suggestions

Fuel the body; six meals per day are mandatory, not an option!
Your protein intake is critical; 1g of protein per lb of body weight will give your body the raw material to grow.
Carbohydrates should be focused on "low" Glycemic (slow release) and should be unprocessed.
Nutrient dense foods are critical while building dense, hard muscle
Mass building exercises such as Squats, Deadlifts & Bench Press trigger growth throughout the entire body
Sleep (eight hours of un-interrupted) is critical for recovery as your body rebuilds muscle fibre during this critical period
Printer Friendly Version:

English
™ & © 2018 King Features Syndicate, Inc. © 2018 Popeye's® Supplements Canada All Rights Reserved.
**The products and the claims made about specific products on or through this site have not been evaluated by Popeye's® Supplements Canada Corporation or Health Canada and are not approved to diagnose, treat, cure or prevent disease. The information provided on this site is for informational purposes only and is not intended as a substitute for advice from your physician or other health care professional or any information contained on or in any product label or packaging. You should consult with a healthcare professional before starting any diet, exercise or supplementation program, before taking any medication, or if you have or suspect you might have a health problem. Information about each product is taken from the labels of the products or from the manufacturer's advertising material. Popeye's® Supplements Canada is not responsible for any statements or claims that various manufacturers make about their products. We cannot be held responsible for typographical errors or product formulation changes Sport supplementation should be used by persons 18 years and older.