Dymatize Elite Primal Beef Protein Isolate, 4.10 lb
Dymatize Nutrition Elite Primal Beef Protein Isolate - 4.10 Lbs

Beef protein has long been known to be one of the best protein sources in the world. Dymatize has captured the unique properties of beef in a delicious, convenient powder. Elite PRIMAL Protein is ultra-concentrated. By removing the majority of the fats and cholesterol associated with beef, PRIMAL can really help you devour massive amounts of ultra-clean high quality protein.1 Elite PRIMAL is over 375% more concentrated than an average piece of beef. With a massive 27 grams of protein and 3 grams of creatine per serving, Elite PRIMAL is the perfect addition to any diet.
24 Grams of Protein
3 Grams of Creatine
NO Cholesterol
NO Fat
NO Sugars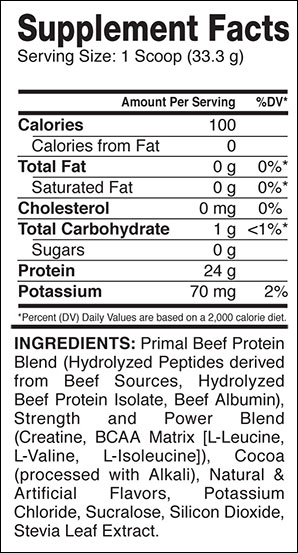 Chocolate Flavour shown. Nutritional information and ingredients may vary from flavour to flavour.
Directions: For a delicious shake, mix 1 scoop Elite PRIMAL Protein with 7-10 oz. of cold water. Because of its unique protein structure, Elite PRIMAL protein may foam after mixing.
1. 33 grams of Elite PRIMAL protein contains 27 grams of protein and 3 grams of Creatine. For comparison, 33 grams of ribeye has approximately 7 grams of protein and 0.15 gram of Creatine. Specific Beef Macronutrients Information provided by USDA: Beef, rib, small end (ribs 10-12), separable lean and fat, trimmed to 1/8" fat, all grades, raw.
™ & © 2017 King Features Syndicate, Inc. © 2017 Popeye's® Supplements Canada All Rights Reserved.
**The products and the claims made about specific products on or through this site have not been evaluated by Popeye's® Supplements Canada Corporation or Health Canada and are not approved to diagnose, treat, cure or prevent disease. The information provided on this site is for informational purposes only and is not intended as a substitute for advice from your physician or other health care professional or any information contained on or in any product label or packaging. You should consult with a healthcare professional before starting any diet, exercise or supplementation program, before taking any medication, or if you have or suspect you might have a health problem. Information about each product is taken from the labels of the products or from the manufacturer's advertising material. Popeye's® Supplements Canada is not responsible for any statements or claims that various manufacturers make about their products. We cannot be held responsible for typographical errors or product formulation changes Sport supplementation should be used by persons 18 years and older.