Dymatize Liquid L-Carnitine 1100mg - Berry, 16 fl oz./473 ml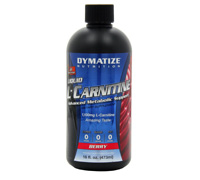 Description:
Dymatize Liquid L-Carnitine 1100 gives you an amazing 31 servings per bottle while delivering 1,100 mg of L-Carnitine in each serving.
L-Carnitine is an amino acid known for promoting growth and development, fat-burning, increasing energy, and improving resistance to muscle fatigue. It is also great in dieting, as it can reduce feelings of hunger and weakness.
Fat Burner
L-Carnitine plays a critical metabolic role in stimulating weight loss, as it helps transport fats to the mitochondria, where they are burned for energy.
Boost Endurance & Performance
Clinical research has shown L-Carnitine supports athletic performance and endurance. Through a greater reliance on fat for energy, the body reduces depletion of muscle glycogen. This, combined with the reduction of lactic acid accumulation in muscles, can extend exercise capacity before fatigue.
Convenience, Quality & Value
Liquid L-Carnitine 1100 in our generous 31 serving bottle is the most convenient and flavorful way to get your pure L-Carnitine. Whether you use it for the health of your heart, endurance, or fat loss, you can be sure you are getting quality and value with L-Carnitine from Dymatize!
Suggested Use
: Shake well before each use. As a dietary supplement, one tablespoonful of Liquid L-Carnitine should be taken up to 2 times daily or as directed by a physician or licensed nutritionist. May also be mixed with your favorite juice or beverage.
™ & © 2018 King Features Syndicate, Inc. © 2018 Popeye's® Supplements Canada All Rights Reserved.
**The products and the claims made about specific products on or through this site have not been evaluated by Popeye's® Supplements Canada Corporation or Health Canada and are not approved to diagnose, treat, cure or prevent disease. The information provided on this site is for informational purposes only and is not intended as a substitute for advice from your physician or other health care professional or any information contained on or in any product label or packaging. You should consult with a healthcare professional before starting any diet, exercise or supplementation program, before taking any medication, or if you have or suspect you might have a health problem. Information about each product is taken from the labels of the products or from the manufacturer's advertising material. Popeye's® Supplements Canada is not responsible for any statements or claims that various manufacturers make about their products. We cannot be held responsible for typographical errors or product formulation changes Sport supplementation should be used by persons 18 years and older.