Dymatize BCAA Complex 5050 (Flavoured Powder), 300g / 33 Servings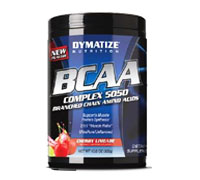 Description:
Dymatize BCAA Complex 5050 is a maximum strength formula designed to provide a 5,050 mg complex of the pure free form amino acids L-Valine, L-Leuceine and L-Isoleucine in every serving. These three protein-sparing amino acids are known as the branched chain.

The Branched Chain Amino Acids (BCAA's) got their name because of their unique branched chemical structure. All Branched Chain Amino Acids are essential amino acids, defined as, the body cannot make them from other compounds, they must be consumed in the diet. it is a well known fact that amino acids are responsible for protein synthesis, hence the nickname "building blocks."

In recent times, these BCAA's have been investigated for their potential anitcatabolic (preventing muscle breakdown) and anabolic (muscle building) effects. Investigative studies have show BCAA's are an important component for effective muscle growth, muscle energy and recuperation

OTHER INGREDIENTS: Erythritol, Citric Acid, Natural Flavors, Beet Root Powder (Color), Sucralose, Acesulfame Potassium, Soy Lecithin
Contains: Soy
Note: Values and ingredients may be slightly different depending on flavour.
™ & © 2018 King Features Syndicate, Inc. © 2018 Popeye's® Supplements Canada All Rights Reserved.
**The products and the claims made about specific products on or through this site have not been evaluated by Popeye's® Supplements Canada Corporation or Health Canada and are not approved to diagnose, treat, cure or prevent disease. The information provided on this site is for informational purposes only and is not intended as a substitute for advice from your physician or other health care professional or any information contained on or in any product label or packaging. You should consult with a healthcare professional before starting any diet, exercise or supplementation program, before taking any medication, or if you have or suspect you might have a health problem. Information about each product is taken from the labels of the products or from the manufacturer's advertising material. Popeye's® Supplements Canada is not responsible for any statements or claims that various manufacturers make about their products. We cannot be held responsible for typographical errors or product formulation changes Sport supplementation should be used by persons 18 years and older.