Cellucor Cor-Performance Series Creatine -- Unflavoured, 415g/50 Servings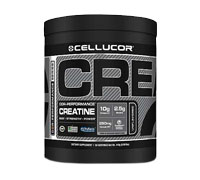 CLINICALLY DOSED INGREDIENTS
Cellucor COR-Performance™ Creatine is unlike any Creatine product in its class. Featuring fully disclosed, clinically studied doses of Creapure®, Betaine, and Cinnulin PF®, COR-Performance™ Creatine promotes superior size, strength and power in every scoop*
GREAT TASTING PERFORMANCE CREATINE BUILT WITH QUICK ABSORPTION TECHNOLOGY
Superior Size
Increased Strength
Extreme Power
Delicious Flavors
Quick Absorption Technology

REVOLUTIONARY DELIVERY SYSTEM
Cellucor COR-Performance™ Creatine features Creasorb®, a revolutionary phosphate delivery system that supports the absorption and effectiveness of Creatine supplementation.
COR-PERFORMANCE SERIES
The Cellucor COR-Performance™ Series features premium, innovative formulas you expect from Cellucor in an all-new line up of commodity sports nutrition products.*
Featuring clinically dosed formulas and unmatched flavor systems, the COR-Performance™ Series is designed to satisfy every customer: great formulas, great flavors and great prices. The entire line is Informed-Choice certified and sports a fully disclosed TruFacts™ label.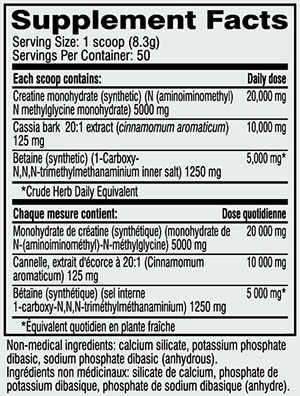 Directions: Mix one to two scoops of Cellucor COR-Performance™ Creatine in 8-10 oz. (236-295mL) of juice, water or other beverage of choice, and consume 30 minutes prior to training, or in the morning on non-training days. (For maximum results) Begin with a loading phase of four servings per day for the first five days of product use.
NOTE: Ingredients and values may be slightly different depending on flavour.
™ & © 2018 King Features Syndicate, Inc. © 2018 Popeye's® Supplements Canada All Rights Reserved.
**The products and the claims made about specific products on or through this site have not been evaluated by Popeye's® Supplements Canada Corporation or Health Canada and are not approved to diagnose, treat, cure or prevent disease. The information provided on this site is for informational purposes only and is not intended as a substitute for advice from your physician or other health care professional or any information contained on or in any product label or packaging. You should consult with a healthcare professional before starting any diet, exercise or supplementation program, before taking any medication, or if you have or suspect you might have a health problem. Information about each product is taken from the labels of the products or from the manufacturer's advertising material. Popeye's® Supplements Canada is not responsible for any statements or claims that various manufacturers make about their products. We cannot be held responsible for typographical errors or product formulation changes Sport supplementation should be used by persons 18 years and older.