Cellucor Cor-Performance Series BCAA, 30 Servings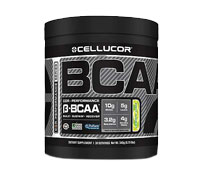 A BCAA PRODUCT YOU CAN FEEL
Cellucor COR-Performance β-BCAA™ features BCAAs, Beta Alanine, Citrulline and HICA which are proven to help athletes build muscle, sustain maximum output, and recover from intense training and sports activities.*
Beta Alanine is known for the 'tingling' sensation most users feel after consumption. Cellucor COR-Performance β-BCAA™ uses a clinically studied 3.2g dose of Beta Alanine to deliver maximum results and a great activation feeling that let's you know the product is 'kicking in.'*
*The vast majority of Beta Alanine users report a slight tingling sensation after ingestion. If you don't feel the 'tingles', don't worry, the product is still hard at work to maximize your workout.

BETA ALANINE IN A BCAA PRODUCT?
Most BCAA users are looking for that extra something, an edge to help them train harder, longer. Beta Alanine is an amino acid that has been shown to support muscular endurance and improve performance.* Beta Alanine is an effective fatigue arrester that prevents lactic acid from accumulating too quickly in skeletal muscle (which occurs during training) allowing you to bring your best, every workout, every game, every time.*
INTRODUCING HICA
Cellucor COR-Performance β-BCAA™ also features a clinically studied dose of HICA, a metabolite of the Branched Chain Amino Leucine, to support lean mass and strength gains.* The clinically studied dose of HICA in Cellucor COR-Performance β-BCAA™, when taken by weight training athletes, netted increases in muscle and decreased symptoms of training-induced muscle soreness, once again helping you to train harder and longer.*
The Cellucor COR-Performance™ Series features premium, innovative formulas you expect from Cellucor in an all-new line up of commodity sports nutrition products. Featuring clinically dosed formulas and unmatched flavor systems, the COR-Performance series is designed to satisfy every customer: great formulas, great flavors and great prices. The entire line is GMP and Informed-Choice certified and sports a fully disclosed TruFacts™ label.
Because the COR-Performance series is stimulant-free, the products can be added to virtually any stack, and are also compliant with most major athletic organizations.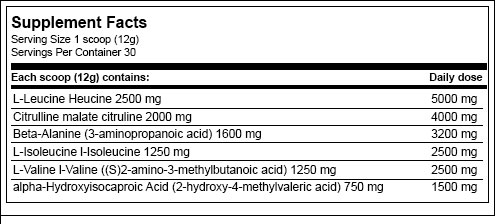 Non-Medicinal Ingredients:
Acesulfame Potassium, Calcium Silicate, Citric Acid, FD&C; Yellow #5 and FD&C; Blue #1, Calcium α-Hydroxyisocaproic Acid (HICA), Natural and Artificial Flavors, Sodium Chloride, Silicon dioxide, Sucralose.
Contains: Soy
Directions: Mix one to two scoops of Cellucor COR-Performance β-BCAA™ in at least 8 oz. of cold water or other beverage of choice daily.
Maximum Performance Tips: Cellucor COR-Performance β-BCAA™ can be taken any time before, during, or immediately following intense training. Cellucor COR-Performance β-BCAA™ may be mixed with any amount of water depending on desired flavor concentration. For maximum results, stack Cellucor COR-Performance β-BCAA™ with Cellucor C4 Extreme and/or Cellucor COR-Performance Whey Protein.
* These statements have not been evaluated by the Food and Drug Administration. These products are not intended to diagnose, treat, cure, or prevent any disease.
NOTE: Ingredients and values may be slightly different depending on flavour.
™ & © 2018 King Features Syndicate, Inc. © 2018 Popeye's® Supplements Canada All Rights Reserved.
**The products and the claims made about specific products on or through this site have not been evaluated by Popeye's® Supplements Canada Corporation or Health Canada and are not approved to diagnose, treat, cure or prevent disease. The information provided on this site is for informational purposes only and is not intended as a substitute for advice from your physician or other health care professional or any information contained on or in any product label or packaging. You should consult with a healthcare professional before starting any diet, exercise or supplementation program, before taking any medication, or if you have or suspect you might have a health problem. Information about each product is taken from the labels of the products or from the manufacturer's advertising material. Popeye's® Supplements Canada is not responsible for any statements or claims that various manufacturers make about their products. We cannot be held responsible for typographical errors or product formulation changes Sport supplementation should be used by persons 18 years and older.