Cellucor Alpha Amino, 30 Servings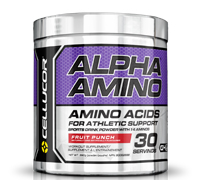 Cellucor Alpha Amino
Amino Acids For Athletic Support!




START STRONG, FINISH STRONGER*
After a lift or a long race; when you have a minute left in the game and you need to finish strong; Alpha Amino provides you with the power to perform and the fuel to recover.*
GO FURTHER WITH ALPHA AMINO*
Alpha Amino is the ultimate performance, hydration and recovery sports powder.* Its premium formula is built on the power of amino acids and fortified with ingredients that promote healthy fluid balance so that you can stay on top of your game.*
BCAAS FOR LASTING ENDURANCE*
Alpha Amino has 14 Amino Acids including a well-studied 2:1:1 BCAA ratio, which features our proprietary 3X Leucine™ Matrix. BCAAs are known to support muscle maintenance, endurance and recovery, but Alpha Amino's 3X Leucine™ Matrix takes the power of BCAAs one step further.* 3X Leucine™ includes instantized L-Leucine, Leucine Nitrate and Leucine Peptides to enhance the body's ability to fuel skeletal muscles, preserve muscle glycogen stores and reduce protein breakdown.*
CHIA SEED, RAW COCONUT CONCENTRATE, AND HYDROMAX™ FOR HYDRATION*
Alpha Amino's Alpha-Hydration Formula features Chia Seed Extract, Raw Coconut Concentrate and now, HydroMax™—a novel ingredient that has the ability to increase the concentration of fluid in the tissues of the body.*
FLAVORS YOU'LL LOVE
Alpha Amino offers a sugar free alternative to traditional sports drinks, and is available in a variety of outstanding flavors such as Lemon Lime, Fruit Punch and Blue Raspberry. It's easy to find a flavor you'll love but hard to choose a favorite.
PERFORMANCE AT THE HIGHEST LEVEL*
On the field, in the gym, or throughout the daily grind, operate at peak levels to tackle any obstacle.
DIRECTIONS: Mix each serving (1 scoop) of Cellucor Alpha Amino in 8-12 fl oz. of cold water or other beverage of choice daily. DO NOT EXCEED 4 SERVINGS PER DAY. USE ONLY AS DIRECTED. Settling may occur.

™ & © 2018 King Features Syndicate, Inc. © 2018 Popeye's® Supplements Canada All Rights Reserved.
**The products and the claims made about specific products on or through this site have not been evaluated by Popeye's® Supplements Canada Corporation or Health Canada and are not approved to diagnose, treat, cure or prevent disease. The information provided on this site is for informational purposes only and is not intended as a substitute for advice from your physician or other health care professional or any information contained on or in any product label or packaging. You should consult with a healthcare professional before starting any diet, exercise or supplementation program, before taking any medication, or if you have or suspect you might have a health problem. Information about each product is taken from the labels of the products or from the manufacturer's advertising material. Popeye's® Supplements Canada is not responsible for any statements or claims that various manufacturers make about their products. We cannot be held responsible for typographical errors or product formulation changes Sport supplementation should be used by persons 18 years and older.