Dymatize Acetyl L-Carnitine 'ALCAR', 90 Capsules
Acetyl L-Carnitine from Dymatize Nutrition works to lowers cholesterol levels and Increase your fat metabolism!
This ALCAR dietary supplement is an antioxidant that may help increase fat metabolism from Dymatize Nutrition, containing 500mg of Acetyl L-Carnitine.
L-carnitine is derived from the lysine and methionine amino acids. It is mainly synthesized in the liver and the kidneys, and must be transported for use to other tissues in the body. It is found in highest concentration in tissues that use fatty acids as the main dietary fuel, such as the skeletal and cardiac muscles.
One of the key uses of Acetyl L-Carnitine supplement is for fatty acid oxidation - helping users burn unwanted body fat. Fatty acids are one the key energy sources the body uses, and oxidation is the process by which they're broken down to create energy. The fatty acids cannot penetrate the inner mitochondia membrane (where they are burned for energy), and the key role for L-Carnitine is to transport fatty acids accross the mitochondra membrane to allow for oxidation of the fats.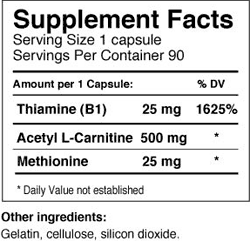 Recommended Use: As an adult dietary supplement, take 1-2 capsules daily preferably with a meal.
™ & © 2018 King Features Syndicate, Inc. © 2018 Popeye's® Supplements Canada All Rights Reserved.
**The products and the claims made about specific products on or through this site have not been evaluated by Popeye's® Supplements Canada Corporation or Health Canada and are not approved to diagnose, treat, cure or prevent disease. The information provided on this site is for informational purposes only and is not intended as a substitute for advice from your physician or other health care professional or any information contained on or in any product label or packaging. You should consult with a healthcare professional before starting any diet, exercise or supplementation program, before taking any medication, or if you have or suspect you might have a health problem. Information about each product is taken from the labels of the products or from the manufacturer's advertising material. Popeye's® Supplements Canada is not responsible for any statements or claims that various manufacturers make about their products. We cannot be held responsible for typographical errors or product formulation changes Sport supplementation should be used by persons 18 years and older.